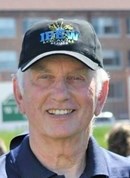 Erick "Del" Delmar Erickson March 24, 1943 - April 19, 2019
Erick "Del" Delmar Erickson, 76, of Stockett, woke up in heaven on Friday, April 19, 2019. Born on March 24, 1943 in Great Falls to Erick Clarence and Thelma Johnson Erickson, Del was raised in Stockett, graduating from Centerville High School in 1961. He married Cathie Cox on December 28, 1968 and although this union ended in divorce, they were blessed with four daughters, his four "punkins".
Del was a steadfast Christian who loved his Savior, Jesus Christ, and lived out his belief through his unconditional acceptance of anyone and everyone he met.
Del was a powerline equipment operator with Lewis Construction Co. and a member of the Local Union IBEW # 44. He enjoyed bowling, was famous for his hook shot, loved tinkering, whether with cars, or just around the house and yard. He loved sports of all kinds, including basketball, was a loyal Lakers fan, enjoyed NASCAR, NHRA, drinking Pepsi, but his first love was his children and grandchildren. He always had a huge smile and a twinkle in his eyes whenever he talked about them.
Survivors include his four daughters, Anessa (Steve) Odum, Jill Erickson, Kristen Erickson and Jennifer Hayes (his J-bird); sister, Patricia "Pat" O'Dell; Hayes grandchildren, Austin (Billie), Rebekkah, Kaitlin, Addisyn, Garret, Owynn, Teigan: Odum grandchildren, Erick, Lauren, Sean and Joyce.
He was preceded in death by his parents, Erick and Thelma; sister, Dixie Myre; grandson, Evan Odum.
A Visitation will be held this Wednesday, April 24th from 6:00 PM to 8:00 PM in the Rose Room Chapel at Croxford Funeral Home. His Funeral Service will be Thursday, April 25th at 11:00 AM with a Viewing one-hour prior at 10:00 AM at First Alliance Church.
In lieu of flowers the family requests donations be made in Del's name to either First Alliance Church or to Littles Lanes Little Leaguers.
To share condolences with the family, go to
www.croxfordfuneralhome.com
Published in Great Falls Tribune on Apr. 23, 2019
https://www.legacy.com/obituaries/greatfallstribune/obituary.aspx?n=del-erickson&pid=192637142&fhid=7189