Jerry Alvin Eenhuis June 19, 1942 - March 9, 2019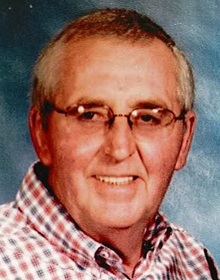 Jerry Alvin Eenhuis June 19, 1942 - March 9, 2019
Jerry Alvin Eenhuis, 76, of Billings, passed away Saturday, March 9, 2019. He was born on June 19, 1942, in Garner, Iowa, a son of Helen and Bud Eenhuis. Jerry attended and graduated from school in Forest City, Iowa.
He began a career as a utility lineman in Colorado. Jerry married Judy Dahl in 1962 and they had 3 children before their divorce. He moved to Billings and married Glenda Beaver in 1975, adding two more children to the family. He retired from Montana Power/Northwest Energy in 2002.
Jerry's dream was to ranch and raise Black Angus cows. He thought nothing of sleeping on bales of hay with mice, stepping on a mouse who got into his wading boots, or having to feed the cows before 5 a.m. in 50 below weather.
He was preceded in death by his parents, a brother, Gary, and a son, Jon. Survivors include his wife, Glenda; four children, Jana (Randy), Julie, Deani (Trent), and Scot (Danielle); 9 grandchildren, Jenna, Emily, Nicholas, Dana, Tylan, Austin, Tristan, Rose, and Michael; and a brother, Terry (Dawn).
A memorial service will be held at 11 a.m., Thursday, March 14 at the Lutheran Church of the Good Shepherd, 1108 24th St. West. Memorials are suggested to the church Building Fund or a charity of your choice. Condolences may be shared at smithfuneralchapels.com.
https://obittree.com/obituary/us/montana/billings/smith-downtown-funeral-chapel/jerry-eenhuis/3771864/