William Harold Thomas March 14, 1928 - November 27, 2018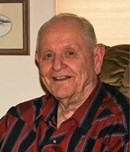 William Harold Thomas March 14, 1928 - November 27, 2018
William Harold Thomas, 90, passed away at Peace Hospice on November 27, 2018. Bill was a proud native and lifelong resident of Great Falls. He was born March 14, 1928, in Great Falls, MT, one of three children to Harold T. and Helen L. Thomas. Bill entered this world during the Great Depression, and he successfully confronted and overcame significant obstacles, hardships, and disadvantages in his early years.
Bill and Frances E. Willey were married on June 3, 1950 and spent their entire married lives, spanning nearly 65 years, together in Great Falls, MT. His mother nicknamed him "Fat" at an early age because of a voracious appetite required to fuel his growing body. Together as Fat & Fran, they dedicated themselves to pursuit of their primary goal of raising a family. The nickname belied his physical characteristics. In his prime he was a tall, strapping man, blessed with many gifts; he possessed the strength and agility of an electric lineman, the mind of an engineer, and the strong, skillful, dexterous hands of a tradesman. He absolutely relished being called Fat (especially by women), but few could bring themselves to use this nickname, instead respectfully addressing or referring to him as Bill.
Bill served in the
U.S. Marine Corps
in some of the most difficult conditions encountered by America troops in the Pacific during
World War II
. Bill lived his life in strict adherence to absolutes and imperatives from which he never wavered. He knew clearly what he would stand up for and what he must stand against. When he gave his word, he delivered on his word, without exception. Bill worked more than three decades for The Montana Power Company. He was highly regarded by his peers for his skills, knowledge, experience, work ethic, and leadership. He was a natural teacher, and was sought after by the young apprentice linemen wanting to work on his crew and learn the trade from him. Bill had intuitive knowledge of all things mechanical, physical, and electrical and was a self-taught, ingenious, and accomplished carpenter and builder. He could build anything and fix everything. His countless projects ranged from small birdhouses to stout storage sheds, fine cribbage boards to kitchen cabinets and bunk beds, all produced with thoughtful design and superior craftsmanship. His construction accomplishments include the family home in Great Falls and the log cabin at
Smith
River, both built for the singular purpose of providing his family a castle, fortress, sanctuary, and playground for a happy, nurturing family life. He achieved and surpassed his goals. The sum of benefits to his family of these accomplishments, and from his countless other sacrifices for and contributions to them, cannot be quantified, nor can a value be assigned.
Bill was an enthusiastic fan of NASCAR, Chevys, and Dale Earnhardt. His place of solitude, reverence, and replenishment was the great Montana outdoors and he immersed himself and his family in it through snowmobiling, fishing, hunting, boating, camping, and cabin outings. He embodied all good things associated with the term Father, and what mattered most to him was his wife and family. He adored his wife and taught his sons all the things boys should know; how to throw a curve ball, catch trout with dry flies, pound a nail, turn a wrench, cold-start (and repair) a lawn mower, drive a stick-shift on ice, and so much more. In his retirement, he completed valuable, comprehensive genealogical research on his mother's side of his family and was the keeper and giver of family traditions, stories, history and lore. He was his family's Provider and Protector, with full willingness, capability, and resolve to act without hesitation on their behalf.
He was preceded in death by his beloved wife Frances; parents Harold T. and Helen L. Thomas; his brothers Robert E. and Richard C. Thomas; his mother-in-law Elvira V. Willey; his father-in-law Paul W. Willey; his daughter-in-law Valerie Belden Thomas; and his longtime close friend Roy Kress.
He is survived by his sister-in-law Marlene L. Willey; his sons and daughters-in-law Robert R. and Lynette Thomas of Lakeside, John H. and Leslie Oakland Thomas of Great Falls, his son William M. Thomas (Butte, MT); and numerous grandchildren and great grandchildren.
Bill leaves us with his enduring example of completeness as a human being, through his lifelong roles as beloved husband, son, dedicated father and family man, grandfather, great grandfather, brother, soldier, mentor, and friend of many in the Great Falls Community and beyond.
The family would like to thank Bill's caregiver and friend Patty Rice for her kindness, compassion, dependability and loving assistance to Bill during the last several years. Family and friends recognize and extend their profound gratitude and respect to his son John Thomas for his commitment, vigilant and sheltering oversight, and tireless efforts to care for Bill, and Fran, in their final years.
In accordance with Bill's wishes, no services will be held. Donations and memorials may be made to
the Salvation Army
Family Services - Great Falls MT or a
charity of the donor's choice
. Condolences for the family may be posted online at
www.schniderfuneralhome.com
.
Published in Great Falls Tribune on Dec. 2, 2018